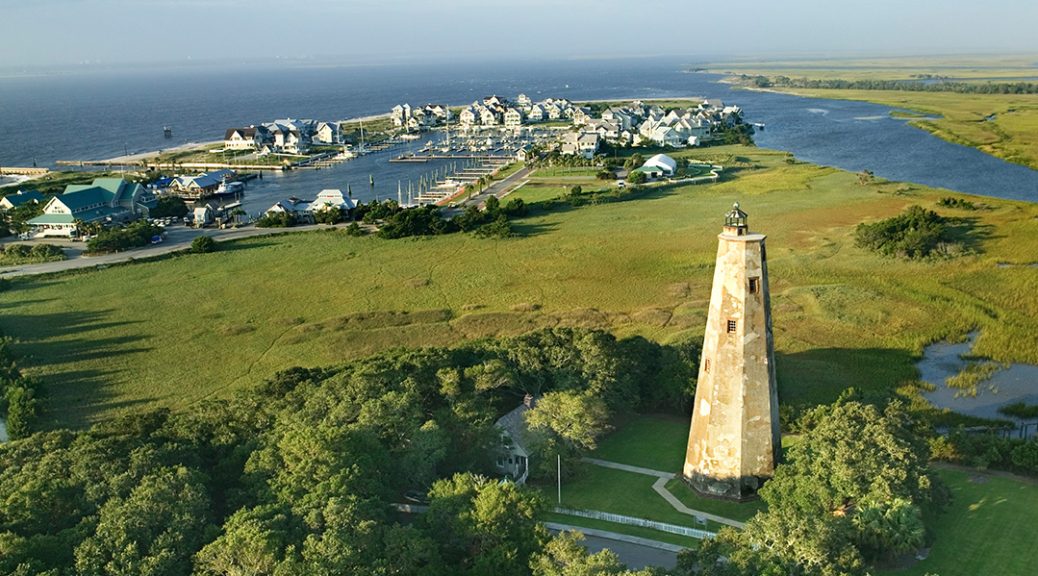 Are you still working on spring break travel plans for your family?
Leave the packed beaches, traffic jams, and umbrella mazes in your rearview mirror and plan a blissful getaway to one of North Carolina's hidden gems – Bald Head Island.
While the island is peaceful and quiet, there is never a shortage of things to see and do when you visit. No matter how you choose to spend your time, these fun attractions will have you and your family enjoying your stay.
Immerse yourself in local history.
Gain a deeper understanding of North Carolina and this historic island. Bald Head Island offers a rich history and vibrant culture dating back hundreds of years.
Climb Old Baldy: One of the most breathtaking sights on Bald Head Island is the infamous Old Baldy. It rises high above the trees, overlooking the ocean, marsh, and harbor. Old Baldy is North Carolina's oldest standing lighthouse and is only a short walk from the ferry landing.
Walk with the ghosts: The local ghost tours last about two hours and take you through more than 350 years of island history, introducing you to the tales of lighthouse keepers and lifesavers, pirates, and river pilots that make up Bald Head Island legend.
Explore the outdoors.
Everyone knows the best vacations are beach vacations, and that's where Bald Head Island shines.
Explore the beaches: With 14 miles of pristine beaches, there isn't a lack of outdoor activities. Bald Head Island's picturesque beaches are perfect for shell collecting, strolling, swimming, or simply relaxing.
Kayak the creeks: Glide through the quiet creek waters and take in the abundant wildlife. Creeks on Bald Head Island are easily accessed by kayak or canoe, and experienced guides can show you the ropes.
Try SUP'ping: There's plenty to explore once you're up and comfortable with paddling. Try Lighthouse Creek, an easy loop that puts you in the shadow of Old Baldy. Or follow Bald Head Creek to the boathouse that served as a supply point and storage building for the lighthouses and U.S. Lifesaving Service Station on the island.
Plan to get away to a luxurious rental.
Want to fall asleep at night to the sound of the sea? Or wake up and sip your coffee while enjoying the gorgeous views? Browse our many premier oceanfront, waterway, and centrally located vacation rentals.
The Blue Dragonfly: The Blue Dragonfly is a beautiful rental home affording excellent views of the golf course and the ocean. The Blue Dragonfly is comfortably decorated and very spacious. The large kitchen and dining area invite all those who love to cook. While the two upstairs en suite bathrooms feature spa-like amenities, and a second-floor loft area offers extra room to spread out. There are also two decks, upstairs and down, to enjoy the views and take in the sunshine and ocean breezes.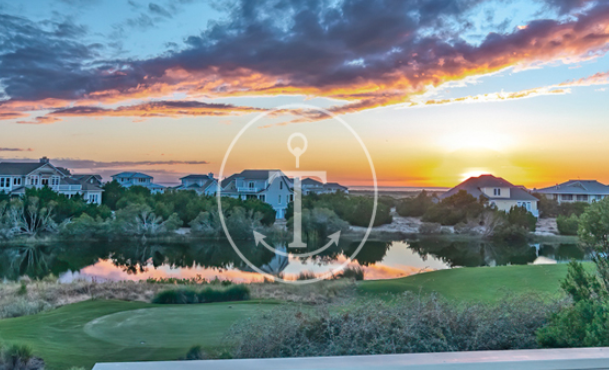 Kick up your Heels: We all want to kick up our heels while on vacation, and what better place than this enormous four-bedroom home? Just a hop, skip, and a jump from the beach and the Bald Head Island Club. Kick up Your Heels is an excellent choice for an old-fashioned family vacation. Enjoy sunlight pouring in the high ceiling great room. Sip wine on the screened-in second-story deck and watch big ships moving out to sea. Outside, enjoy a hot and cold enclosed outdoor shower and a fish cleaning sink station. You may choose to purchase memberships to the BHI Club or Shoals Club at this property. This comfortable, family beach home is perfect for your next vacation.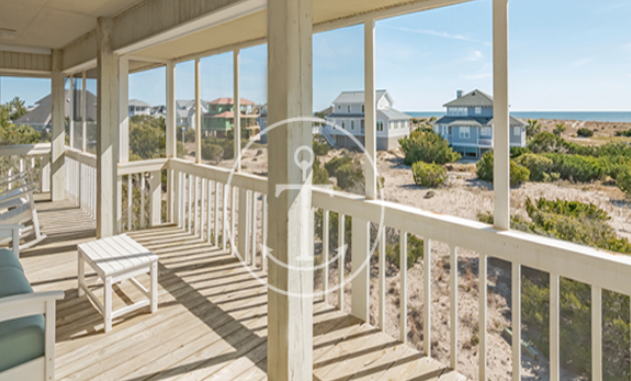 [Check out our other beautiful rentals here.]
Relax with shopping and dining.
Bald Head Island offers many shopping options, from basics like groceries and beach accessories to men's and women's fashion to gift items for just about everyone on your list.
And options are aplenty when it comes to dining. Grab a sandwich to take to the beach, enjoy a casual lunch after a day on the boat, or indulge in fine cuisine with views that rival the food.
Get sporty on spring break.
Bald Head Island has plenty of sporting activity options to keep you active and healthy while on vacation during your spring break.
Go golfing: The golf course at the Bald Head Island Club is one of the most beautiful in the Southeast area of the country. The George Cobb-designed course winds through the forest, under the eye of Old Baldy, and out onto the dune ridge where a 180° view of the ocean greets you for the final holes.
Try your hand at croquet: The championship croquet greensward at the Bald Head Island Club regularly hosts United States Croquet Association tournaments, but don't let this scare you away. Croquet at the Bald Head Island Club is open to beginners and seasoned veterans.
Enjoy a bike ride: The island's gentle coastal terrain offers bicyclists an easy pedal, but with more than 15 miles of roadway, more experienced cyclists can get their fill.
Bald Head Islands' activity list is endless; whether you want to relax on the beach all day or revel in a jam-packed schedule, there is plenty to keep you occupied. North Carolina's Bald Head Island is the perfect place to kick off the spring season and enjoy a beach getaway.
If the island and its waters are calling your name this spring break, contact our expert team today, and we will find the perfect rental for you.